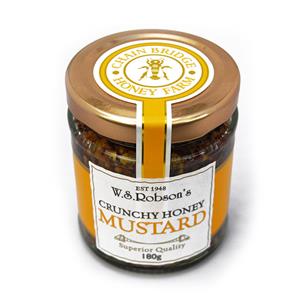 Chain Bridge Honey Farm
"All our honey comes from our 1,800 hives situated throughout Northumberland and the Scottish Borders."
Produced on-site at Chain Bridge Honey Farm by Mary Hastie – who also formulated the recipe – and her trusty colleagues Marie and Frances.
Crunchy Honey Mustard 180g
This Crunchy Honey Mustard is made using the honey of 1,800 hives from Chain Bridge farm near Berwick upon Tweed. 

Enjoy this deliciously tangy mustard with our fabulous sausages, cold meats, and cheese, in dressings and marinades or to spice up a stir fry.


Ingredients
Honey (45%), Mustard Seeds, Wine Vinegar, Salt.
180g