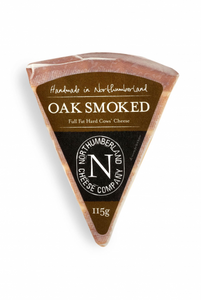 The Northumberland Cheese Company
Since 1984 Mark Robertson has been making farmhouse cheeses in the heart of Northumberland. "Our knowledge and expertise in the cheese industry has led to a full range of artisan cheeses with a range of different milks, including cow's milk, goat's milk and sheep's milk."
Oak Smoked Cheese 150g 
This Northumberland Oak-smoked is an extremely popular award-winning cheese, and with good reason. It is a delicious original recipe cheese, which is cold-smoked over wood chippings for 12 hours, to develop a bronzed outer core and a beautifully smoky taste.
This Oak-smoked cheese is the real deal; there is absolutely nothing artificial in this flavour. Once the cheese has been smoked for 12 hours, it is then matured for 3 months to deepen the flavour. It won Silver at the International Cheese Awards last year (2019). 
150g