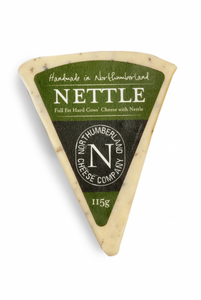 The Northumberland Cheese Company
Since 1984 Mark Robertson has been making farmhouse cheeses in the heart of Northumberland. "Our knowledge and expertise in the cheese industry has led to a full range of artisan cheeses with a range of different milks, including cow's milk, goat's milk and sheep's milk."
Nettle Cheese 150g
Made with cows' milk from the Blagdon Estate, this is delicious Northumberland Original recipe, with the addition of real nettles.
For those who have not tried it, nettles may seem like a peculiar addition to cheese, but in actual fact, nettles can be used to coagulate milk in place of rennet! They find the addition of nettles encourages the beautiful creaminess of the gouda-influenced cheese. We promise the nettles won't sting you!
This cheese is matured for 3 months which allows the subtle flavour to develop, and it gives the cheese a fantastic, well-rounded maturity which doesn't overpower the gentle taste experience.
The nettles bring a subtle but complex dimension to the cheese; they truly enhance the rich and creamy qualities of the cheese. With its gorgeous, green-flecked appearance, this cheese is certainly a talking point on the cheese board. Team it with Oak-Smoked for a proper bestsellers cheese board. Or it's fabulous with courgette on a vegetarian pizza!
150g