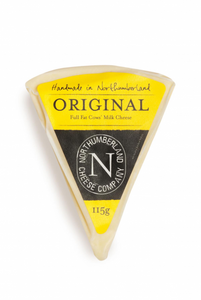 The Northumberland Cheese Company
Since 1984 Mark Robertson has been making farmhouse cheeses in the heart of Northumberland. "Our knowledge and expertise in the cheese industry has led to a full range of artisan cheeses with a range of different milks, including cow's milk, goat's milk and sheep's milk."
Original Cheese 150g
Northumberland Original is a delicious mild handmade cows' milk cheese, which is extremely versatile in the kitchen. A cool, silky texture bursts into a rich, buttery flavour with a satisfying finish. This cheese melts super smoothly, so it is perfect for sauces, on toast, or just as it comes. Original is based on a Gouda recipe. It is matured for 3 months, to develop its delicious flavour. 
150g